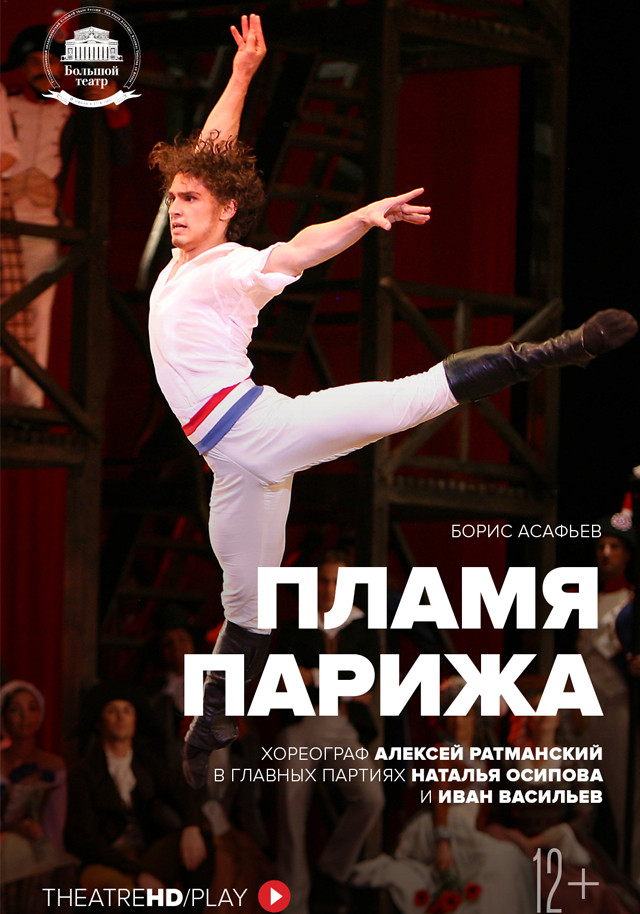 The Flames of Paris
Пламя Парижа
On TheatreHD/Play, the passionate rhythms of revolution and its burning hearts come alive in the famous ballet by Vasily Vainonen, revived at the Bolshoi Theatre by Alexei Ratmansky. Natalia Osipova and Ivan Vasiliev, global stars with unrestrained temperament and incredible stage presence, perform the leading roles.
Actors
Crew
The ballet about the heroes and victims of the Great French Revolution was created by Vasily Vainonen in 1932 and reimagined in the 21st century by Alexei Ratmansky. From an anthem celebrating the uprising of the people, the performance has transformed into a philosophical exploration of what it means to live in an era of bloody upheaval. However, the "Flames of Paris" has not lost its passion and temperament, just as Vainonen's magnificent choreography remains intact with its grandiose Basque dance. Love and hatred, victories and defeats, loyalty and betrayal, gains and losses, life and death - it is all present in this story of individuals caught in the whirlwind of revolution.

In the updated "Flames of Paris," the principal roles are danced by Natalia Osipova and Ivan Vasiliev, artists for whom this ballet was worth bringing back to the stage. The power, strength, and passion in their dancing do not contradict the lyrical aspect of the story; instead, they serve as a reminder that no social upheaval can overcome genuine, living emotions.