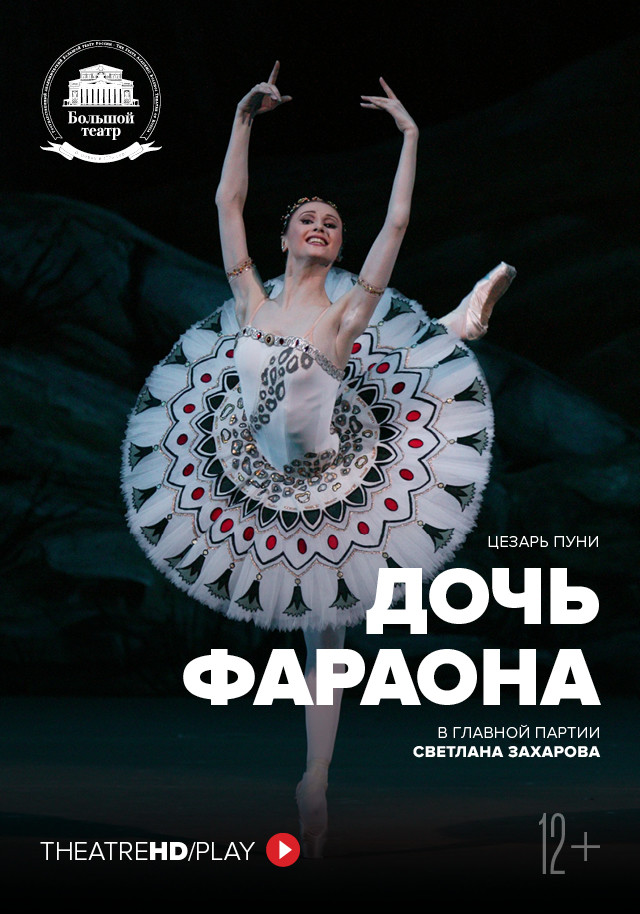 Pharaoh's Daughter
Дочь фараона: Светлана Захарова
Recreating the spectacular sumptuousness of the original, the ballet tells the tale of a young Englishman who dreams he elopes with a Pharaoh's daughter.
Despite a desert storm, a lion hunt and an attempted suicide, the couple finally wins the Pharaoh's blessing to their marriage.
From its creation in 1862, Petipa's grandiose ballet was a sensational success; its stupendous costumes and striking scenery, its exotica, romanticism and drama appealing to audiences as much as the virtuoso choreography.
The Bolshoi Ballet and the two soloists Svetlana Zakharova and Sergei Filin are at their best in spite of the difficulty of Pierre Lacotte's choreography.
Actors
Crew
---
Stage direction and Choreography
«Living the Egyptian dream» – The Independent Review Monday 9 August 2004
«Only the Bolshoi can present, in Svetlana Zakharova and Sergey Filin, two artists with the technical bravura and the emotional allure to make the piece so attractive» Clement Crisp – The Financial Times Monday 9 August 2004
«Svetlana Zakharova and Sergei Filin were simply astounding» – Michael Coveney
«Fun on the Nile with the Bolshoi» – Louise Levene
«A romp in Egypt» Sarah Frater – Evening Standard Friday 6th August 2004