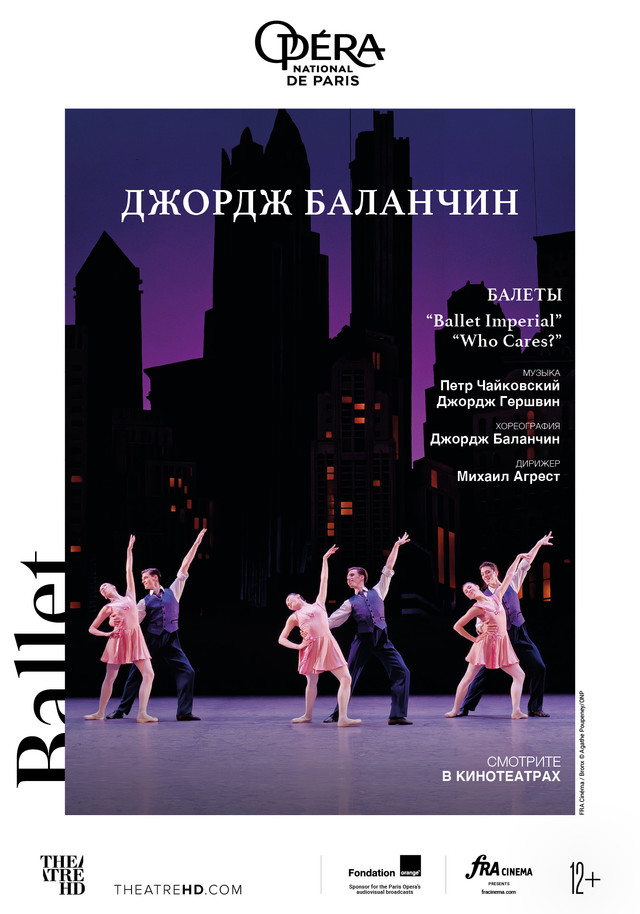 George Balanchine
Джордж Баланчин
Created in 1970 by the New York City Ballet, Who cares? is a suite of dances to songs by George and Ira Gershwin - including the "classic" that gives the piece its name and I Got Rhythm - against the backdrop of the Manhattan skyline. Who cares? combines an ensemble of dancers in various formations, followed by four soloists. All come together in a playful finale in which Balanchine wanted to show the musical genius and melodic beauty of Gershwin's compositions through classical dance. A tribute to the grandeur of Imperial Russia, Ballet Impérial was created in 1941 by the American Ballet Caravan to Tchaikovsky's Second Piano Concerto. A work in which George Balanchine brilliantly celebrates the technical virtuosity of academic ballet in the style of Petipa - his "spiritual father" - and the great St Petersburg tradition.
Crew
Ballet Impérial and Who Cares? are the 35th and 36th of
Balanchine's ballets to enter the repertoire of the Opéra
National de Paris.
"I know everything that can be done with a ballerina's foot,
I know all the possibilities; I know what's inside a foot...
but inside a ballerina's head? Therein lies the mystery. This
is undoubtedly the reason why I invent ballets. To try to
understand." George Balanchine
From Saint Petersburg to New York, in succession
Balanchine lived for twenty years in Russia, ten years in
Europe and half a century in the United States where he
founded the New York City Ballet.
"Choreographers are not creators. We are researchers. Each
piece of music corresponds to a dance. We are striving to
find it. [...] Ballet is above all a matter of tempo and space:
the space delimited by the stage, the time set by the music."
George Balanchine
Apart from the complexity and richness of the composition,
what is striking about Balanchine is the speed of execution
of the steps which allows his ballets to be very modern,
just like his desire for an absence of expression on the
faces of his performers, for a neutrality, so that everything
is expressed by the dancing body.